Hi everyone!😊 I hope you've all been enjoying the recent doses of sunshine🌈 – Summer's definitely on the horizon and I'm stocking up on sunscreen and giant beach towels as we speak.
I'm excited to be able to update you on all that's been happening the past few months since our last blog in January!
Well, it's only fitting to start off by sharing one of our biggest accomplishments we achieved this spring – which is that our Reach for The Stars! 2020-2021 Annual Report has been published! Young Leaders have worked so hard on designing it and so to finally see it in its finished form is such a lovely feeling! I'm sure after perusing the report below you'll agree with me that it's pretty spectacular this year.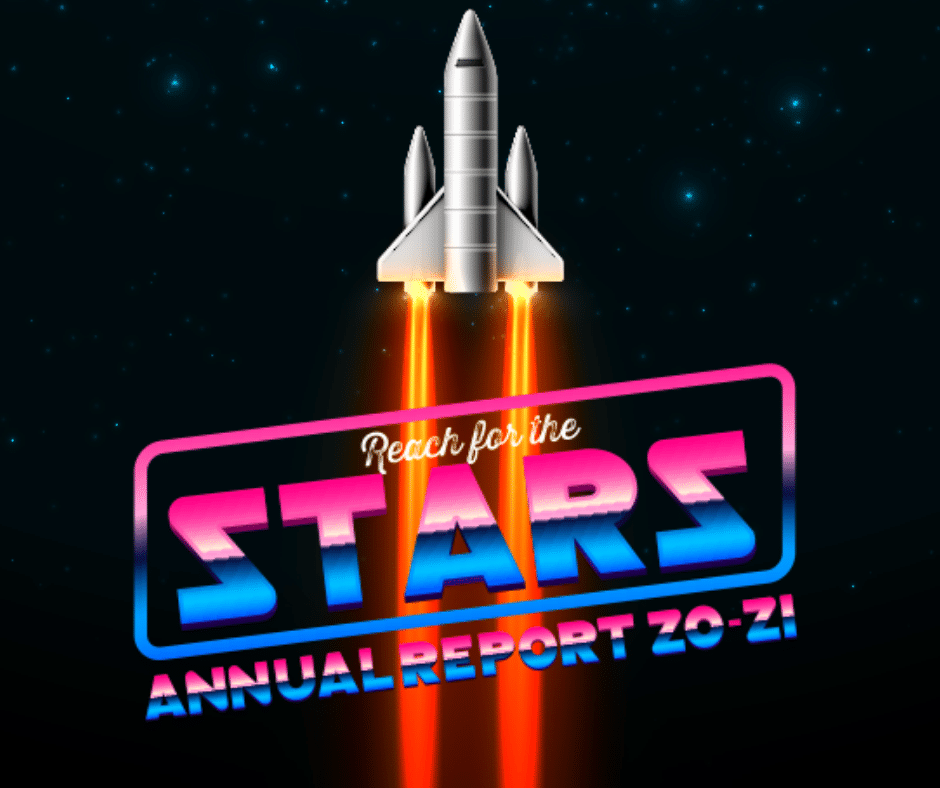 One small step for man …one giant step for young people!
2020-2021 Annual Report
We continue to work hard and have fun designing the new 2021-2022 Annual Report. It's always so exciting to start a new project afresh and so we've been working together to brainstorm lots of brilliant new ideas and themes. 😊
In February, Trevor and other MACS staff participated in an Online Spring Recruitment Fair, facilitated by Queens University. This was an opportunity for students attending this fair to hear about all the various professional and placement opportunities MACS has to offer and some students came on as Sessional Workers which was great news. 😊
MACS Muddy Paws was also very grateful to receive another donation from Belfast's Saint Anne's Cathedral, raised from their wonderful 'Black Santa Sit-Out' initiative. This was the third year in a row they have donated to either Led By You or MACS Muddy Paws which is fantastic and shows they really like what we do. This initiative was started more than 41 years ago, with all the money raised from each sit-out then being donated to a variety of charities in Northern Ireland.
Spring is the time of new plans and projects.
Leo Tolstoy.
On 5 May, young people at Muddy Paws gathered together to participate in a 'Planning for the Future' workshop, which involved discussing all of their goals, plans and fundraising opportunities they want to explore in the future. It was an insightful workshop that allowed the young people to work together to brainstorm ideas and aspirations to reach together. 💡
In early April, Young Leaders enjoyed a food and movie night, which allowed us to catch up with each other in person. It was such a fun night and it really helped us all to reconnect properly after numerous months of zoom calls!
We had the opportunity to attend a workshop alongside volunteers and staff from Youth Action, hosted by Volunteer Organisations Linking Together (VOLT) on 14 April. This was a very insightful opportunity to take an in-depth look at trends within volunteering, including what barriers people may face in regards to pursuing volunteering opportunities, as well as the long-term benefits associated with volunteering. As Young Leaders, our time is totally voluntary and we were able to give insight into our own experiences
and also learn from other organisations too 😊
Young persons Fran and Zuzi and Young Leader Olga, alongside Trevor, had a wonderful time hosting a stall at the Balmoral Show, promoting MACS and Muddy Paws as part of a series of events as the Lord Mayor of Lisburn's nominated charity. It was a wonderful opportunity to share all about the services and support that MACS has to offer young people and they had a fantastic day doing just that! 😊 Just look at those smiling faces! We think we impressed the Lord Mayor for sure and that there is a real benefit to young people attending these events as it shows that we want to give back to MACS and are willing to support the organisation and its work!
Trevor alongside Carla, Hope, Pierce and Luke along with other MACS staff supported the Mayor's 5k Colour Run in Dundonald by being marshals and chucking coloured powder over the participants taking part (and each other😊) The Colour Run is an amazing annual opportunity to get fit and give back to local charities in the community at the same time.
A similarly vibrant and positive activity that MACS young people also took part in was the Lisburn Umbrella Project.
Mayor Martin, upon reflecting on the lovely art display, shared these words. "These umbrellas leave a lasting reminder of the importance of inclusion. Lisburn and Castlereagh is a diverse and inclusive community and our city is welcoming to everyone. I hope that
people visiting our city will look up, enjoy the colour and reflect that we are all different but together we are connected."
Through embracing the diversity of human beings, we will find a sure way to true happiness.
Malcolm Gladwell.Trevor continues to work hard on one-to-one service reviews and is taking all the feedback from MACS young people for improvements and new ideas on board. There are also some positive updates from some of us Young Leaders that I'm excited to share. Robyn has been accepted to be a SHOUT text line volunteer! How amazing is that? Dean has been working as a Sessional in MACS and loving it but has been offered an incredible opportunity for a seven-week internship in New York, working for a Supreme Court Judge (which he is of course taking! A summer in New York USA, who wouldn't?). Fantastic news all around! We're all so delighted for them and 100% certain that they'll excel in all of the newfound opportunities opening up for them.
It's been an absolute joy updating you all on all the recent happenings and exciting news🌞
Until next time